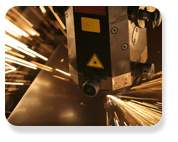 Laser Processing
Metal fabrication technology has taken us from a drawing compass to computer controlled lasers for accuracy and fast turnaround. Our Mitsubishi LV Laser features superior cutting power, high-speed processing accuracy and an automated material handler to facilitate faster cuts, thicker materials and an overall increase in efficiencies. Its unique features make a real difference in performance and provide consistent, unsurpassed quality and quick turnaround for our customers.
Advantages of Laser Processing with the Mitsubishi LV Series[wpanchor id="anchorpunching"] [su_list icon="icon: star" icon_color="#3399ff"]
High-speed processing accuracy across a wide range of materials
Steel thickness up to 1" thick, 3/8" aluminum and 1/2" stainless
Consistent edge quality over a large 60" x 120" processing area
No tooling costs on short and medium runs
Increased productivity through dual pallets and automated fabrication [su_spacer] Learn more about laser processing.
[/su_list]



Punching
With our Amada line up of three CNC turret punch presses, we are able to meet our customers' diverse punching requirements. Large production orders are easily processed with the help of Amada MP auto load/unload systems used on two of the turrets. With a large selection of tooling inventory on each machine, we are able to meet even the most complex design specifications. And, with a capacity of 30 tons, we're able to punch thicker materials.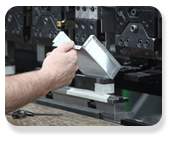 Press Brake Forming
Our precision Amada press brakes deliver consistent production quality through high accuracy components. Their advanced design delivers faster speeds and smoother transitions to increase production – an improvement in industry standards, while delivering better quality parts. Our precision brakes are also capable of complex part formations via an eight-axis back gauge system on our two FBD-NT machines.
Capabilities of Amada Precision Press Brakes [su_list icon="icon: star" icon_color="#3399ff"]
Their advanced design delivers faster speeds and smoother transitions to increase production (an improvement in industry standards) while delivering better quality parts.
Faster production times on the FBD-NT series through progressive bending, decreasing setups
Ability to form complex parts with increased accuracy [su_spacer]
[/su_list]

Engineering / Inspection / Layout
Our Virtek LaserQC provides 100% flat part inspection in only a few minutes to dramatically increase throughput. This advanced quality inspection system improves quality and customer satisfaction by automatically comparing the scanned part to the corresponding CAD file within seconds.
It identifies any variances outside the pre-set tolerances and highlights them in color to show accuracy or where further engineering improvements can be made. The LaserQC can also be used for reverse engineering or to create detailed inspection reports for our customers.
Benefits of our LaserQC Automated Quality Inspection System [su_list icon="icon: star" icon_color="#3399ff"]
Shortened delivery to meet customer demand
Automated, detailed inspection reports to meet requirements for ISO, TQM, SixSigma, Lean and QS Reporting
Reverse engineering services
Compatible with .dxf, .dwg and .igs CAD file formats
[/su_list] Learn more about Laser QC.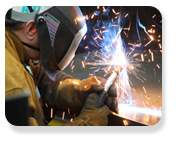 Welding
We offer three different kinds of expert welding services to meet customer requirements: Spot welding and MIG/TIG, which feature the reliability and versatility of the Miller welding brand. Through Miller and our expert welders, we are able to achieve the quality and consistency our customers need and the durability, reliability and performance they expect.


Finishing
Our SteelMaster four-head graining/deburring machine offers more versatility to deliver acceptable, burr-free parts to our customers. The combination of four heads and a maximum working surface capacity of 48" finishes product faster and eliminates many secondary operations. The SteelMaster not only processes more parts, but better quality parts – all at a reduced cost, which allows us to offer more competitive prices.

[wpanchor id="anchormachining"]
Hardware Insertion / Assembly
With our multiple Haegar hardware insertion machines, Salem can provide a variety of hardware insertions to facilitate efficient assembly of your sheet metal components. In addition to hardware installation, we offer rivet insertion to complete the assembly. Our hardware and assembly services support Salem's mission to be your one-stop job shop.

Machining Services
The Haas CNC milling machine, the newest addition to our shop, is designed to meet the needs of modern sheet metal fabrication now and long into the future. In addition to precision sheet metal, the Haas CNC adds another branch to Salem's capabilities – precision machining. We can now provide quotes on your precision machining requirements with our Haas CNC!
Added Capabilities of the Haas CNC [su_list icon="icon: star" icon_color="#3399ff"][wpanchor id="anchorpainting"]
High-performance, high-speed precision machining
Reduced cycle times for faster turnaround
Economical, high-volume production [su_spacer]
[/su_list]

In House Painting Services
To better serve our customers, we added an in-house painting and silkscreening facility to our shop in 1997. Our painting services make Salem a one-stop shop for our customers' needs. By utilizing our in-house service, our customers receive added delivery benefits through better product control and shorter lead times.
Salem Metal's Expert Painting Services Include [su_list icon="icon: star" icon_color="#3399ff"]
Silkscreening
Custom color matching
Smooth, textured and clear coat finishes
Filling, sanding and priming
Short and long run production painting[su_spacer]
[/su_list]

[tiny_spacing]