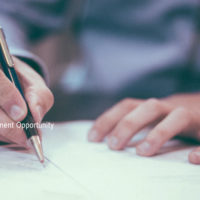 Salem Metal Inc
Position Overview:
The qualified machinist will be involved with picking out the machine, tooling, set up, running and taking ownership of the machine in a job shop environment.
Qualifications & Skills:
Set up and operate Vertical Machining center.
Studies blueprints, drawings, specifications to determine dimensions and tolerances of finished workpiece, sequence of operations and setup requirements.
Selects, aligns and secures fixtures, cutting tools, attachments, accessories and materials.
Calculates and sets control to regulate machining factors such as speed, feed, coolant flow, depth and angle of cut.
Enters commands to retrieve, input or edit machine control.
Starts and observes machine operation to detect malfunctions or out- of-tolerance machining and adjusts machine controls as required.
Has experience estimating time and materials.
MINIMUM REQUIRED EDUCATION AND EXPERIENCE:
5+ years' experience in precision CNC milling.
100% self-sufficient in set up and run.
Experience with Haas, or Fanuc Controls.
Excellent print reading skills and ability to inspect own work is a must.
TO APPLY FOR THIS POSITION FOLLOW THE FOLLOWING STEPS
1. CLICK LINK BELOW FOR APPLICATION –
https://www.salemmetal.com/wp-content/uploads/2021/07/SMIapplication2021.pdf
2. FILL OUT APPLICATION & CLICK DOWNLOAD ARROW ON TOP RIGHT OF SCREEN TO SAVE IT TO YOUR COMPUTER
3. EMAIL YOUR COMPLETED APPLICATION TO
[email protected]
** Salem Metal is an Equal Opportunity Employer and does not discriminate against any employee or applicant for employment because of race, color, sex, age, national origin, religion, sexual orientation, gender identity, status as a veteran, and basis of disability or any other federal, state or local protected class.